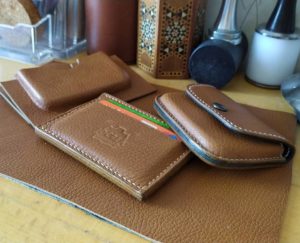 Jocrea is specialized in leather goods and the design of New and recycled genuine leather goods. Recycled leather means leather coming from old abandoned objects (leather sofa, bags, briefcases, chairs, etc.). The leathers used by Jocrea are carefully chosen and of excellent quality and are among the best brands in the leather goods market.
Jocrea also designs non-recycled leather products ordered from the best taneries on the leather goods market.
The activity
The activity of the Jocrea is therefore to design mainly leather goods like wallets, card holders, coin cases, bags, belts, straps for musical instruments (guitars, bass) and other useful items made of genuine leather.
The designed items are entirely handmade by respecting the old traditions of the former leather workers, respecting ecology.
Recycling leather principal
The principle of recycling of the old leather is in respect of animal life and nature since it is not necessary to use recently tanned leather and thus to slaughter more animals. Jocrea therefore has the principle that there is enough leather to recycle to no longer have to slaughter other animals in order to extract their skin.